These are things that I felt are worth sharing, some my ideas, others just good stuff people need to know about.

I've got more of these ideas on my other website www.jheld.mysite.com
Click on a picture for a larger view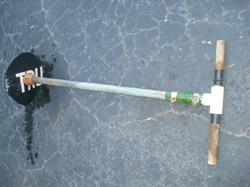 My plunger for bucket washing, it's made from a broken bathroom plunger, an 8 inch diameter piece cut out of a truck mud flap. It works great, much better than standard bathroom plunger for a number of reasons. Larger flat bottom does a better job a squeezing water through more cloth. Longer handle reduces bending at the waist, The T handle makes it easier to operate with both hands. If I was going to modify it I would make the handle 6 inches taller to absolutely eliminate all bending over while using it. It eliminated most of that now, but there is always improvements to be made on almost everything. I think the broken plunger part is important to spread the load to the mud flap, I'll have to replace that soon, probably pvc plastic. I've got 3 screws screwing the mud flap into the broken plunger part and one more with a large washer into the handle, the 3 are starting to rip out, it needs 3 more washers, but I will make a flat stainless piece to replace all 4 washers. These screws are important to hold the flap rigid on the up stroke to suck the water through the cloth.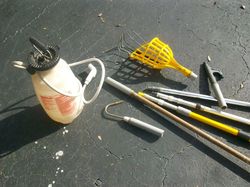 My interchangeable pole ends and hot shower, Click on this picture to go to my other website with more good ideas.